Environmental Market Mechanisms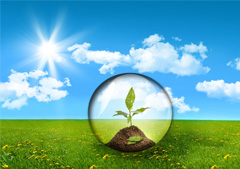 Green Ventures understood early on the potential for carbon finance and acquired extensive experience in different market mechanisms such as Certified Emission Reductions (CERs), Voluntary Emissions Reductions (VERs), Gold Standards, Renewable Energy Certificates (RECs) and Solar Purchase Obligations (SPOs). Green Ventures is well positioned to take advantage of future opportunities in these important evolving markets.
Green Ventures has experience in setting up and managing private equity funds and separately managed accounts that invest in clean energy projects and portfolio companies. For example, in 2008, Green Ventures Capital (a sister company of Green Ventures) set up its India Carbon Fund 1. As the name suggests, it was a purely India-focused fund that intended to invest in clean energy projects yielding carbon credits.
In 2011, Green Village Ventures proceeded to formally register its innovative rural lighting project in Maharashtra with UNFCCC's Clean Development Mechanism in order to qualify for Certified Emission Reductions (CERs). In 2012, UNFCCC accredited Green Village Ventures for CERs under the Clean Development Mechanism. Given the current turmoil in the carbon credit market and the uncertain international regulatory framework, Green Village Ventures does not assume any pecuniary benefits from the Clean Development Mechanism.