Solar Energy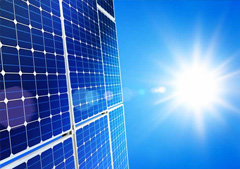 Solar energy, the world's most abundant direct source of energy, currently only represents a small fraction of the world's total electricity supply. Given the favorable solar irradiation conditions on the South Asian subcontinent combined with a solid market demand for solar energy, Green Ventures has decided to enter this attractive and dynamic market.
Rather than setting up independent power plants, Green Ventures offers its services directly to global blue chip companies operating in India. By having captive solar power plants installed directly on their premises, these firms can directly satisfy their solar/renewable energy purchase obligations. Through an innovative business model, Green Ventures clients are not required to co-invest in the solar installation. Instead, they pay Green Ventures on a monthly basis for the solar energy produced during the contract period.
Given its recent entry into the field of solar energy, Green Ventures has tied up with leading solar EPC vendors that provide it with the required operational and technical know-how. As the power plants are installed directly on the clients' premises, many of the regulatory issues encountered by typical solar Independent Power Producers do not apply to Green Ventures, allowing it to focus purely on the development process and client satisfaction.